I was going through my Hong Kong pictures and it just reminded me how beautiful Hong Kong is at night. And of coz, I also remember my little experience.. actually let's not be modest.
I HAVE TO blog about how I took these photos. It was a HASSLE !! hahaha..
I had my Lin Zhi Dan Dan. Dunno how to translate. Sendiri see the photo.
Did some window shopping and went up to the Peak View area. It was only 6pm. Si beh sian. I am there already. The sun not setting yet. All the Hong Kong drama say Night Hong Kong hou leng.. Hiong Gong yeh geng hai zhui leng gek !! So, I die die also must SIT there and wait till the sun set lor.
Read my travel guide book.

Look at the stuff I bought earlier.

Look at the Japanese guy next to me playing Tetris ( no, not leng chai one).

Then fan away the smoke from the Japanese uncle's ciggy on my other side.

Kay poh chee see what the aunties and si lais are eating.

See the young cute toddler walk around. Laugh quietly when she fall and cry (cute marr....)

Then the dad come and carry her.. oo and aaaa al over her... aii buoy tahan...so precious meh. Make a mental note that next time I would tell my children to stand up themselves. Don't be a sissy. hehehe. Military training.

Then, see a noti ang mo boy pee at the pillar without taking off his pants. Eh that barger can walk n run d. So sia sui. No toilet trainng meh ? My dog also know better.
Then kap chai kap lui.... and soon mm geng mm gok also 7.30pm d. I see all the kiasu ppl taking all the nice spots with good view. Sien. I also become kia su.. and manage to grab a spot at the very corner side and took this photo.
Not nice hoh. So I whipped out my tripod. ( my brother's one actually) Then very yau yeng set up my tripod. The two young chinese in front of me also scared d. Still boh sui, I have to zoom in to get rid of the 'construction site' of the peak tower..
Hehe.. So, I inched forward. See, I cannot get the whole view without the zhor deng construction place.
Suddenly, the couple in front of the chinese guys walked off. Wah before that two can move, I grabbed my tripod and bag.. and POOF ! I was standing in front of them d. Yes they are not leng chai so I dun care. Haha.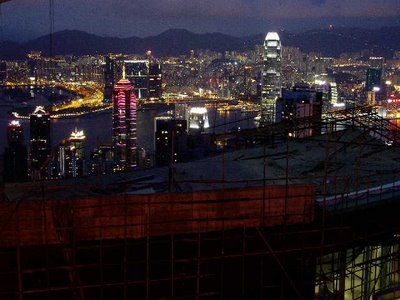 Better right ? But still got the edge of the building on the right side of the photo. Oh OH ! There is another space. I zig zagged and manage to squeeze in a small gap in front of one gang of young China tourists. First, I conquer the small space with my tripod. Slowly, I inched in with my arm. then half of my body.. and ok.. I am in position !! Though not really comfortable.
Aiii.. these China tourists when wanna move away? They are also pushing me nearer to the couple in front. Ahh.. this is interesting. It is a couple from South Africa. But they are not speaking any native language but English. So I eavesdropped lar. Not that I have a choice. Radio also say humans cannot shut our ears.
So, this man was trying to impress the woman with his 'success' stories as a lawyer. Kap! Kap !Kap!
Ai yoo... I was thinking you two wanna chit chat go sit aside lar. This photographer from Malaysia got serious things to do you know ?? I gotta take nice nice photograph of Hong Kong ok? I waited almost TWO hours to take these photos ok?? MOVE LA !!!!
So, I inched in. Sort of elbowed the lady. She gave me a glance. I smiled sweetly at her. She nodded in return.
But she so damn mm seng muk. Or may be she purposely one. May be she is territorial also. Again in order to take nice professional photo, I bumped in to her. What to do? She is HUGE you know. I think double of me. She turned around. Again I smiled- extra sweet this time. She forced a small smile.
But through our brain waves...
Me: Pat por ! Move your big fat black ass to the seats there lar. Don't chit chat here with ur butt facing the scenary. I wanna take photo, OKAY ???!!!
She: You small Chinese witch ! Give me some space ok? I am trying moochy coochy with this lawyer ok ?? And, I CAME HERE FIRST.
Anyway, I didn't give a damn. And, I stayed in my position. Securing myself more when the group if Chinese youngster move away. hehe. (Now only the two chinese man moved closer. :P)
I can be quite stubborn sometimes. After sometime, I think they gave up on me. How to be romantic when every once in awhile a small round nose is poking into your conversation and a pair of sepet eyes are watching you.
YAY !! I WON !!!!
I think with them moving away. I inched forward with at least a space of 4 people. Hehe.
Still not the best spot. But ok already. This photo above also very nice d ok? Cannot complain d. I never take photo at night so cun one ..
After that, I also tired d. Tiring of being kiasu. Tired for hawking for a inch of space. So I have these photos. Not easy ok ? And I am proud to show off them.. hahaha
Anyway, Hong Kong Island is beautiful at night. Find a nice quiet spot without ppl like me. And it would be really romantic.
:)